We hope you've marked your calendar to join in with our Avery Dress sew-along!! Today, we're talking supplies, so you can gather what you need before we get started on September 29th.
PATTERN
First and foremost, you will need the Avery Dress pattern. You have 3 options on where to buy it:
Craftsy
,
Etsy
, and
You Can Make This
. Remember, coupon code
AVERYSAL2014
gets you 20% off your
entire
order on the
Modkid Etsy
store. It expires on 9/24/14 at midnight EST. Kate B. and Nita R. were the lucky winners of the pattern giveaway!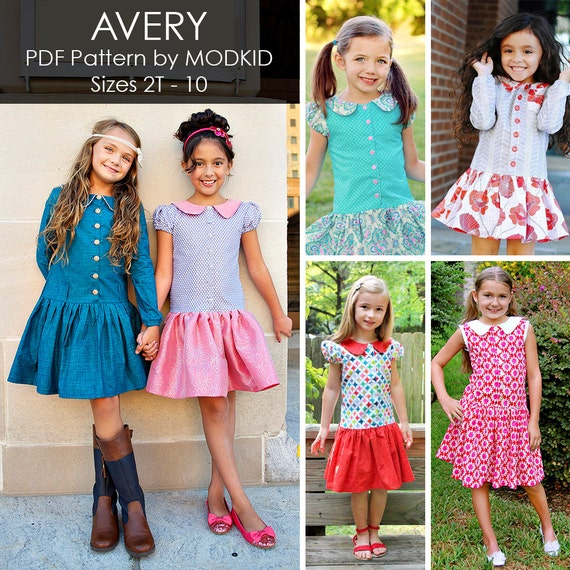 FABRIC
Next, you will need to decide which version of the Avery you would like to make. As you can see above there are three sleeve options: sleeveless, short sleeves, and long sleeves. You also have optional details with a front pocket and belt loops.
The suggested fabrics include: quilting cottons, shirting, voiles, gauzes, lawns, linens, and muslins. Lightweight corduroys and denims would be great as well. Don't forget our inspiration post! Here's you fabric requirements list:
NOTIONS
In addition to fabric, you will need 1/4" wide elastic per the chart and 7 buttons (1/2" buttons for sizes 2T-5 or 3/4" buttons for sizes 6-10). For view A only, you will need 1 yard of 1/2" wide double fold bias tape or enough fabric to make your own as detailed on page 7 of the pattern.
As a little bonus for the sew-along, I'll be showing you how to add piping to the collar. If you'd like to include this detail, be sure to have 1 yard of pre-made piping.
For the sew-along, I will be sewing the Avery dress View C with the pocket addition in a single print. We'll have plenty of tips along the way should you choose a different version!!